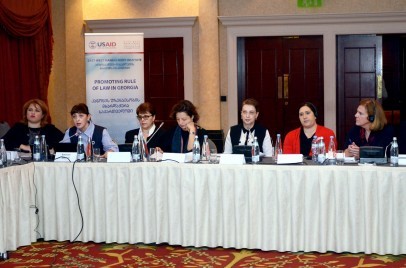 The Discussion Concerning the Disciplinary Liability of Judges Was Held in the Round Table Format
Published: 11/09/2016
On November 9 of 2016 in Tbilisi, at the "Tbilisi Marriott" Hotel in the format of the round table was held a discussion concerning the disciplinary liability of judges.  The aim of the discussion was consideration of the issue of improvement of  the existing  legislative  framework in order to raise  effectiveness of  the disciplinary proceedings, to provide maximum specificity of  disciplinary misconduct,   to increase safety and independence of judges.
The chairperson of the Supreme Court and High Council of Justice Nino Gvenetadze and Director of the Office for Democracy, Management and Social Development – Monica Azim addressed the audience with the welcome speech. 
Within the Discussion format, the participants had a closer look at the issues of the court ethics, laws in force concerning the disciplinary lawmaking and flaws revealed in practice. Director/Chief Councilor  of California Commission on Judicial Performance  - Victoria Henley  introduced  the audience  with the recommendations concerning the improvement  of the  disciplinary  procedures of the judges of the Common Court of Georgia  basing on  the experience  of the USA.     
The members of the Hugh Council of Justice, members of the Disciplinary Panel of Judges of the Common Courts and others interested persons took part in the discussion.
 The Discussion was organized by the High Council of Justice and funded by the United States Agency for International Development (USAID) within the project of Promoting the Rule of Law (PROLoG) of the East-West Management Institute.